The Pensacola Bon Fest is an annual event from the Japan-America Society of Northwest Florida. It is a small event (free to the public) that includes music, dancing, and food.
Venue:✩✩✩ (3/5)
Entertainment: ✩✩✩✩ (4/5)
Visitor Information: ✩✩ (2/5)
Value for the Money: ✩✩✩✩✩ (5/5)
Pros:
The event is free! There is food and drinks available for a nominal fee, as well as a silent action for Japanese terms.
This is a very small event, with a strong emphasis on children and participation. If you have young ones, they will enjoy themselves with a dance contest and drumming. The world famous Matsuriza Taiko Drummers have been there each year, providing fantastic entertainment.
Cons:
The venue is small, but adequate. Parking can be a chore, and it may be difficult to find (my GPS lead me astray). Aside from the drumming, there isn't any real entertainment, so it can be a one trick pony of sorts.
The event website never updated for 2015, so it can require a little digging to ensure the right information.
Recommendations:
It is FREE! Take a couple of hours, see some cool drumming, some adorable kids in costumes, and get out of the house! Be sure to bring some cash and arrive early for snacking.
Japan-America Society of Northwest Florida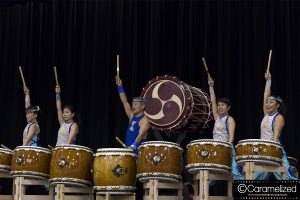 Save